Haven't seen this posted but it sounds like potentially great news as well as being a massive undertaking.
That would be awesome Palm Springs is a little better location for sure.
We've been holding off on mentioning this until John chose to announce it. There are some specifics regarding both Indisc and the facility itself, but I'd rather they came from John (or after we clear them with him). And nothing's official until the city gives the zoning change OK. Let's just say he and Jim have been talking a lot the last few months. If all goes as planned, think HoF+PAPA magnitude. Nice newer building, btw, right across from the airport. Tons of places to eat within a 5 mile / 10 minute radius. No need for a rental car if you fly into Palm Springs, just Uber/Lyft to facility, hotels and food.
The machines are still in Banning, which BTW is having a fundraiser on the 24th. And every other Saturday is tech day, when the games get worked on by the team. I'm planning on having some "rarely used in competition" games for the next Indisc; will be testing them out the next few months.
Quick note on the "hours 11-8 Monday-Sunday": last time we talked, that was not planned to be year-round, just "in season", i.e. the half of the year it's not blazing hot there. We'll let you know if that changes (unless he posts so first).
Late-breaking Update (4/14/21 - 7 p.m.): Zoning commission gave unanimous approval! We're GO!!!
Some of them need rom mods to make them competition ready
Possibly; that's one of the things Jim and I will discuss once I have my first-draft list for him. There are also a couple where a small physical mod may be desirable. I'll be play-testing everything beforehand to see if in their current state they play too easy, too hard or too one-dimensionally. There are also quite a few in their collection that have not been used that I never intend to use because they're not well suited for competition for one reason or another.
I'll never forget those marathon games on Rescue 911

It's nice to hear some (potential) good news in the pinball world. Looking forward to getting back out to the desert!
Best anchor (game 5) of a good PAPA-style ticket. EVER.
I hope this can happen! Last year was my first INDISC and we flew into Palm Springs. Then with rental car drove the roughly 45 minutes to Banning. It was quite an expensive trip but well worth it! It would be great if it was right near the airport.
It's definitely right near the airport, you can walk out the door of the building and see the runway across the street. The terminal is on the other side of the airport though, so it'll still be around 5 minutes in a car, or a 2.5 mile walk around.
my ticket definitely agreed, it's rare to have 4 games and be like YES i am pretty much in

See above; also, Jay Collins and I are continuing our work on the games slate; some we'd hoped to use for Classics Target Match Play last year had issues. There's still a lot of repair and tuning up to be done on many games.
Very cool. Makes it a longer drive for us, but sounds like a real upgrade opportunity, hope it works out for John and everyone else who's put so much work into it all.
so for us tourists that would mean we could fly to Vegas and stay right by the airport for PHOF, and then fly to Palm Springs and never really leave the airport area either.
What kind of cost is it to fly from Vegas to Palm Springs?
Are there other major pinball venues like this close to airports?
Galloping Ghosts is about 30 min drive from O'Hare according to Maps.
I was curious about the same thing (LAS to PSP) since we have family in Las Vegas.
Based on my limited research, it seems that Southwest Airlines is the only one at the moment offering direct flights between the two. Other airlines were a 1-stopper and were 3+ hours. I wouldn't be surprised to see other airlines open up more direct flights as things (hopefully) continue to improve.
Drive time looks to be about 4 hours.
The location across from the Air Museum is on the "wrong" side of the Palm Springs Airport. It's just a highway and you're going to need a car to be able to… go somewhere to eat lunch. The hotels and restaurant are in the other side of town. So you'll need a car or a taxi to get around. Despite its small size Palm Springs is not a very walkable city outside of the main drag.
You can always fly into Ontario and drive to PS. It's not a long drive (1-1:30 hours?) and you'll get to pass Banning on the way

For those who plan too far ahead, here's the layout: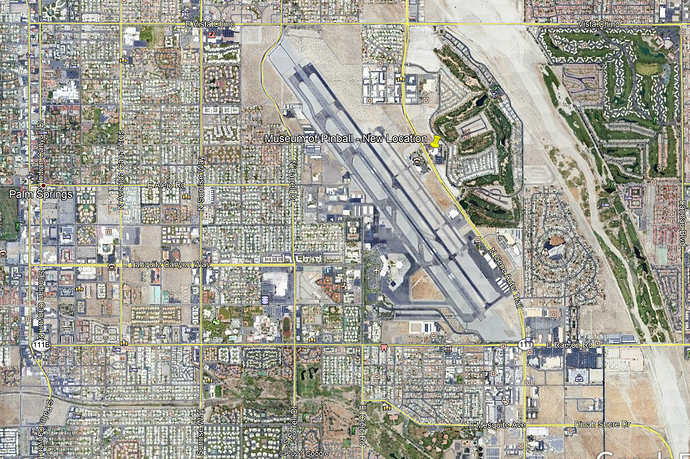 You can check maps or google earth to match up what I've posted here in clearer detail.
To orient, start with the runway. The Palm Springs Air Museum is on the right side of it about at the midpoint. The new Pinball Museum location is across the street from that (further right). The airport terminal is left of the runway near the lower end. The large north-south road at the left side of the map is route 111B, the city's "main drag". Most of the restaurants and hotels you'll be using are located on or near this, and are a bit denser parallel to the lower end of the runway than the upper end; the area near 111B and Ramon Road has the most. The pinball museum will not be conveniently walkable from the terminal nor from the hotels or restaurants, but all of those are within a short drive / Uber / Lyft / taxi. It's 2.5 miles as the crow flies from the museum to 111B, and 5 by road to 111B and Ramon.
There are a few places to eat closer to the museum than along 111B, but none I'd try walking to.
One other thing to consider. If after a few days in Palm Springs you find you're missing the snow and cold back home, you can ride the aerial tramway up to the mountaintop at 8516 feet where there are a two restaurants, a museum and 51 miles of hiking trails. It should be nice and nippy for you, usually with snow at that time of year.
Here's a link:
or down the strip and the take the free trams + walkways.
Bummer. So double whammy… the move to Palm Springs larger location is off indefinitely AND sound like he's having to sell off a bunch of games that are in storage.
Good news: even if only keeping the pins in Banning, that's still a crap-ton of pins.