25 days of blood, sweat, and tears have come to an end and only one pin is standing victorious. You're Champion is ATTACK FROM MARS!
Thanks all for participating. Stay tuned for another world cup of pinball next year as we celebrate the women's world cup! Hope you all enjoyed the tournament.
Here are all the results:
Champion: AFM
2nd Place: MM
3rd Place: TZ
4th Place: MB
Finals:
65 Votes
World Cup Championship!
MM: 32.3%
AFM: 67.7%
3rd Place Matchup:
MB: 44.6%
TZ: 55.4%
Who are you going for in the real world cup?
France: 41%
Croatia: 59%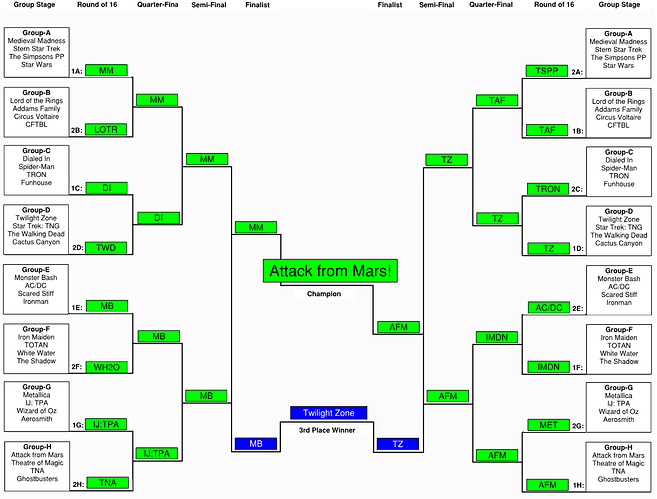 SEMI-FINAL RESULTS:
76 Votes
Matchup 1 –
MM: 61.8%
MB: 38.2%
Matchup 2 –
TZ: 43.4%
AFM: 56.6%
The world cup of pinball is just that; In honor of the real World Cup, im incorporating pinball with Pinside's top 32 (at time of start of tournament) and pitting them up against each other in their own World Cup! Enjoy and don't forget to vote and cheer on your favorite pin to be this World Cup's champion!