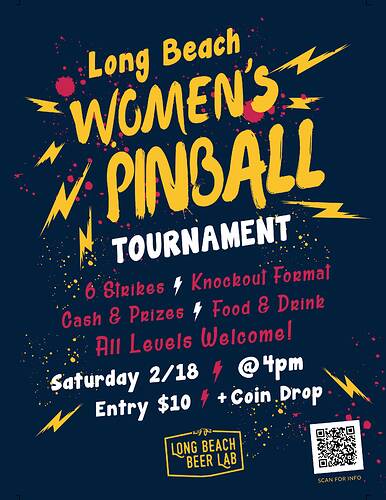 Join us for the first Women's Division IFPA Tournament being held at the Long Beach Beer Lab. This is a fun and accessible event for players of all skill levels!!
Tournament Date: February 18, 2023
A Fair Strikes Knockout Tournament format event. 6 Strikes – last woman standing wins!
Entry fee is $9 + $1 IFPA FEE plus coin-drop.
Tournament details:
Tournament: Sign in opens at 3. Tournament starts at 4.
We are running a MatchPlay tournament using MatchPlay events.
There will probably be 10 machines in use.
Machines used TBD tournament day.
Players will be grouped in groups of threes or fours
0/1/1/2 strikes are given to 1st/2nd/3rd/4th place finishers
Three-player groups get 0/1/2 strikes
Two-player groups get 0/2 strikes
In each round each group will play a single game on a randomly selected machine.
Entry fee: $9. + $1.00 for IFPA Players Fee (plus coin drop in the qualifying rounds only)
Trophies for 1st, 2nd, 3rd + Cash for 1st and 2nd, Gift Cards for 3rd and 4th (with consolations)
High Score prizes
Questions, comments, or want to help? contact Tom at info@brewcades.com
Please respect our policy of a minimum of one purchase at the bar – thank you for your support!
Located at Long Beach Beer Lab
518 W Willow St
Long Beach, CA
More info: Inaugural Long Beach Women's Strikes Tourney | Brewcades