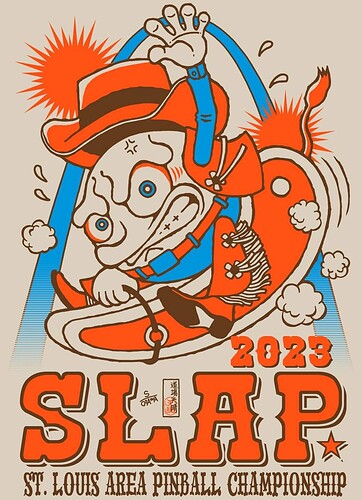 St. Louis Area Pinball Championship 2023
@ Benton Parkade (located inside Cafe Piazza) 1900 Arsenal St - St. Louis, Missouri
Saturday, August 12th - Qualifying
Sunday, August 13th - Finals
Entry Fee: $35
IFPA Sanctioned and played for world and state ranking points. 200% TGP
$1000 in cash prizes(if 64 players) Payouts to Top 8 Players. Trophies to Top 4 Players.
Free SLAPC 2023 Shirt w/ entry if pre-registering before July 27th
To register, please contact Tyler Becker via email (pinballderby@gmail.com). If applicable, please include IFPA Number and Shirt Size.
-Schedule-
Saturday August 12th
**10:00 am - Doors Open **
12:00 pm - Roll Call/Introductions
12:10pm - SLAPC 2023 Qualifying Rounds (15 Rounds of Group Matchplay)
**8:30pm - Expected End Time of Qualifying **
Sunday August 13th
**10:00am - Doors Open **
10:30am - Roll Call for SLAPC 2023 Finalists(with the exception of players earning a first roundbye)
10:40am - Finals Round One Begins
11:30am - Roll Call for Finalists w/ Bye
**11:35am - Earliest time Finals Round Two may start, Finals then continue without any stops as the bracket advances. **
12:00pm - Check In begins for Knockout Tourney
**12:30pm - Knockout Tourney begins **
**4:30pm - Expected End of Knockout Tourney **
**4:45pm - Expected End of Finals/Trophy Presentation to Follow **
-
-Notes-
Qualifying Rounds to be scored with IFPA(7,5,3,1) scoring. The top 16-24 players will advance to the finals on Sunday. Finals to be contested under three-game PAPA Style Group Matchplay. The total number of players advancing to the finals will be dependent on total turnout and announced before tournament start. All games on coin drop.
Tournament Officials: Tyler Becker, Dan Sexauer, & Jacob Fischer
Maximum Entries Allowed for SLAPC 2023 will be 72 players, All Skill Levels Welcome!
Optional knockout side tournament on Sunday afternoon starting at 12:30pm and running concurrently with the remainder of finals. Open to all players with a maximum of 32 entries. Knockout tourney is a separate $5 entry, and includes payout and is also IFPA Sanctioned. More details to be released on the day before.
Please feel free to email Tyler (pinballderby@gmail.com) with any questions!!
Past SLAPC Champions
2021: Steve Rolsing
2022: John Miller