IPA's & IFPA MatchPlay Tournament - 1/30 in Huntington Beach CA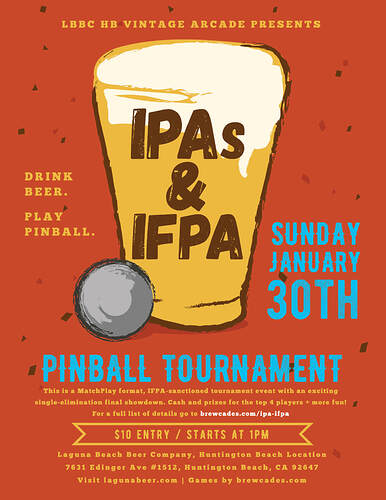 Sunday 1/30 we are hosting our very first IFPA-Sanctioned tournament! This is a MatchPlay format event with an exciting single-elimination final showdown. Cash and prizes for the top 4 players + more fun like consolation and high-score prizes. Entry fee is $9 + $1 IFPA FEE plus coin-drop (on the qualifying rounds only.) More Info at brewcades.com/ipa-ifpa
Tournament details:
Registration and warm up 12-1pm sharp.
Tournament: 1pm.
We are running a MatchPlay tournament using MatchPlay events.
There will probably be 10 machines in use.
Machines used TBD tournament day.
Players will be grouped in pairs and if necessary groups of threes or fours. There will be a qualifier of 8 separate rounds of one match. This means every player will play 8 matches in total to qualify for the finals.
In each round each group will play a single game on a randomly selected machine.
For the first round, grouping will be based on IFPA rankings.
After the first round groupings will be balanced.
At the close of the 8th round, the highest ranking players will be place in a single elimination bracket.
Finals are single elimination
Ties will be broken automatically by comparing the strengths of opponents faced.
Entry fee: $9. + $1.00 for IFPA Players Fee (plus coin drop in the qualifying rounds only)
Cash for 1st and 2nd, Prizes for 3rd and 4th (with consolations)
See the event results when they become available at https://www.ifpapinball.com/tournaments/view.php?t=47279#
Located at Laguna Beach Beer Company, Huntington Beach (In Bella Terra)
7631 Edinger Ave #1512, Huntington Beach, CA 92647
Questions, comments, or want to help? contact Tom at info@brewcades.com
Please respect our policy of a minimum of one purchase at the bar – thank you for your support!