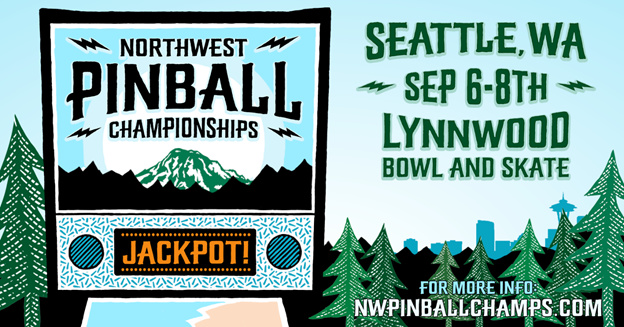 We are back with the 2019 edition of the NW Pinball Championships!
We are also part of the 2019 Stern Pro Circuit


2019 changes:
MORE FINALIST with an increased Open tournament Rookie division to TOP 12 finalist AS WELL AS adding a Rookie TOP 8 division to the Classic tournament.
Return of the dedicated qualifying bank for the Women's division with finals on the Open bank Sunday!
Expand the Classic bank with more game.
Adjusted difficulty for the Open bank machines as per last year feedback.
Details:
NW Pinball Championships 2019
September 6th to 8th (Qualifying Fri noon-midnight / Sat 10am-midnight, Finals Sunday)
We are continuing to receive great feedback about our new venue of the past 2 years and we are happy to announce we will be returning to the Lynnwood Bowl & Skate for 2019!
More at http://www.nwpinballchamps.com/
FB event: https://www.facebook.com/events/1528974810567141/
We take great pride in having an extremely dialed and enjoyable lineup and overall providing a world-class tournament experience.
As usual we will be streaming the finals on Sunday played on the Open bank as well as the qualifying on Friday and Saturday (depending on availability) on the same bank (were the cameras are set up). All this thanks for our partnership with GeekGamer.TV
We will have more announcement in the future as well as the banks line up!