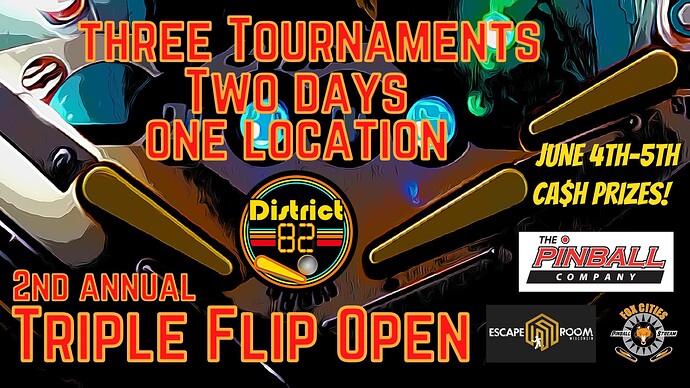 Triple Flip Open Tournaments at District 82 Pinball
$7,000+ Prize Money with 100 players ($2,000 each tournament plus $1,000 bonus cash)
Series of 3 Full Tournaments over 2 days
Saturday June 4th - Sunday June 5th
All Tournaments will be live stream by Fox Cities Pinball Stream
Cash Prizes for each tournament
Top 3 Overall Cash Prizes for series (in addition to anything else won) sponsored by The Pinball Company
Total Cost $145 ($85 admission + $60 tournament fees)
100% Tournament fees ($20 per tournament) paid to top 8 players in each tournament
All 100+ pinball machines will be on free play the whole weekend
Schedule:
Saturday June 4th
8:00AM Doors Open For Practice
9:00AM Event 1: Classics Target Match Play
3:30PM Event 2: Double Up Match Play
Sunday June 5th
8:00AM Doors Open For Practice
9:00AM Event 3: 10 Strike Progressive Knockout
We are also having a 3 strike knockout on Friday June 3rd for $25 Admission
Friday June 3rd
5PM Doors open for practice
6PM 3 Strike Knockout Starts
No Cash Prizes on the Friday Tournament
So you can play in 4 full tournaments for this weekend
All IFPA Approved
125 Player Cap
Full Details of each event are listed on the District 82 website by clicking the links below
You also register on the website at these links when it opens
REGISTRATION WILL BE REQUIRED AND IT OPENS ON MARCH 19th, 2022 AT 9AM CST.
The Triple Flip registration will register you for all 3 tournaments on Saturday and Sunday.
You are registering for all 3 at once when you sign up.
https://district82.com/event/triple-flip-open-pinball-tournaments-2022/
Registration for the Flippin' Friday Knockout Tournament on June 3rd is separate and is not part of the Triple Flip itself.
This registration for this will open 1 hour later on March 19th, 2022 at 10AM CST.
This is a stand alone tournament and you are only registering for this Friday Knockout Tournament at the link below.
https://district82.com/event/flippin-friday-knockout-tournament-june-3/
Erik Thoren
District 82 Pinball
De Pere, WI