I've been seeing Copa Mundial ("World Cup" in Spanish) at the Lake Forest Ice Palace (in Lake Forest, CA) for years now, and while it's occasionally moved to the Aliso Viejo Ice Palace (in Aliso Viejo, CA, of course), it always felt noticeably different than anything else around it. Only recently did I get around to taking a photo of it. Sorry for the glare; I was still trying to learn my camera settings: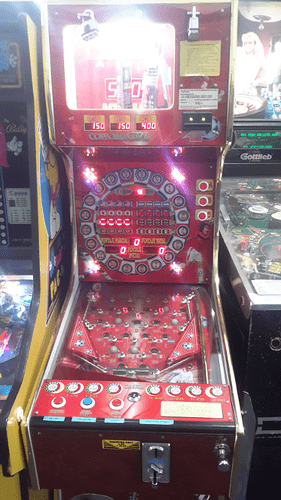 Here's a picture of the playfield: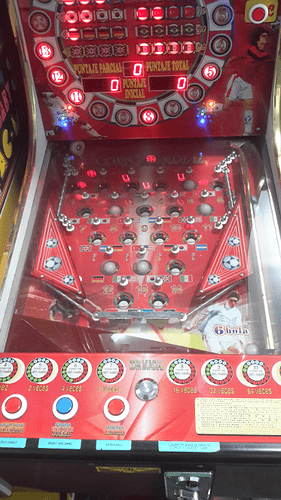 I thought bingo machines weren't allowed in the United States anymore,or are they just not allowed under certain conditions? This one gives out prizes, though they're cheap stuff like glow sticks and car air fresheners. There was one time that I saw it just dispense all of the prizes each time you pushed one of the buttons at the bottom.
I also heard that bingo machines were primarily made in Belgium as they went solid-state. This one is definitely in Spanish, though I wouldn't know if that means it was created in a Spanish-speaking country or simply intended for a Spanish-speaking audience.