I've created an "IFPA Companion" Discord bot for displaying relative IFPA data in Discord.
Wanted to create a new thread instead of adding it to the IFPA App thread.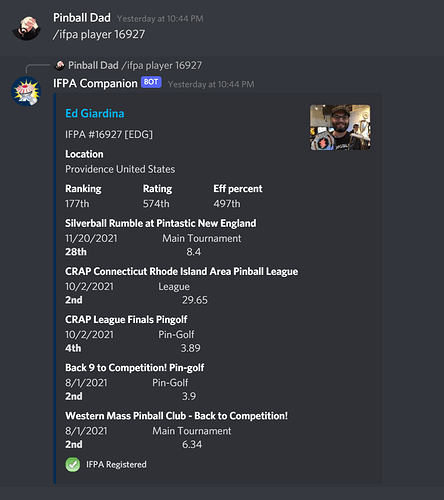 TL;DR add the bot with this link. I am collecting zero data on the bot's use and the bot ignores all text that doesn't start with /ifpa so privacy shouldn't be an issue.
The bot's code is here:
edgiardina/IFPACompanionDiscord (github.com)
The bot has a help command and is being actively improved but as of today you can:
Get a player's profile with the /ifpa player command
Get rankings of players across main, women, youth and country using the /ifpa rank command
Get NACS standings using the /ifpa nacs command
Get upcoming tournaments using the /ifpa tournaments command
Hopefully someone finds this useful, and contributions and requests are totally welcome. I'm also interested in a slackbot assuming I can find a good framework. I was heavily inspired by Corey Hulse's thread where he created an NACS bot. He and others helped me understand what people would want to see and gave me ideas on how to display data.