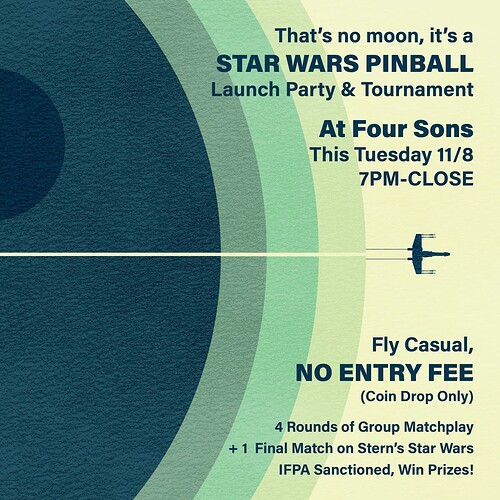 This will be a Group Match Play tournament with 4 rounds of 1 game each for qualifying rounds. Ties will be broken and then Top 4 will play 1 game on Star Wars to determine the winner.
NO ENTRY FEE (Coin Drop Only)
Tournament details:
Starts at 7PM
We are running a MatchPlay tournament using MatchPlay events.
There will probably be 11 machines in use.
Machines used TBD tournament day.
Players will be grouped in groups of threes or fours. There will be a qualifier of 4 separate rounds of one match. This means every player will play 4 matches in total to qualify for the finals.
In each round each group will play a single game on a randomly selected machine.
For the first round, grouping will be based on IFPA rankings.
After the first round groupings will be balanced.
At the close of the 4th round, ties will be broken and top 4 will play one game on Star Wars to determine the winner.
Prizes for the Top 4 include their choice of 1 of 2 Free Entries to the Pins and Pints Pinball League, or a $20 or $10 Gift card to Four Sons. More prizes TBD
Located at Four Sons Brewing, Huntington Beach (on Gothard)
Questions, comments, or want to help? contact Tom at info@brewcades.com
Please respect our policy of a minimum of one purchase at the bar – thank you for your support!
Imagine if every arcade in the country posted every one of their events on this site
I was having the same thought. I'm thinking TiltFourums isn't really the place to advertise small local competitions.
I appreciate the feedback, however I have one thread for each location that I hold events at, and I update it when I hold a new event, using the event category. These posts are intended for the friends and local players that use this site and that attend my events. I'm not violating any terms of posting and I would appreciate your help in trying to grow the pinball community in my area. Small local competitions and "pinball in the wild" are something that should be supported and appreciated for the hard work that it is and for it's contribution to the industry as a whole. Hopefully, someday, if you are out for INDISC or another event in the area you can come practice at one of ours.
IMO that might not be a bad thing because the world needs more small local pinball events and people to support them.