Hi all,
BPAC just announced the dates and schedule of the Brisbane Masters 2021.
I don't know what the border situation will be then, I presume there will be some kind of vaccine booklet one might carry when travelling. Please note that at this time of writing, our borders are only open to residents returning.
Be safe and hopefully see you there.
–
From the organizers: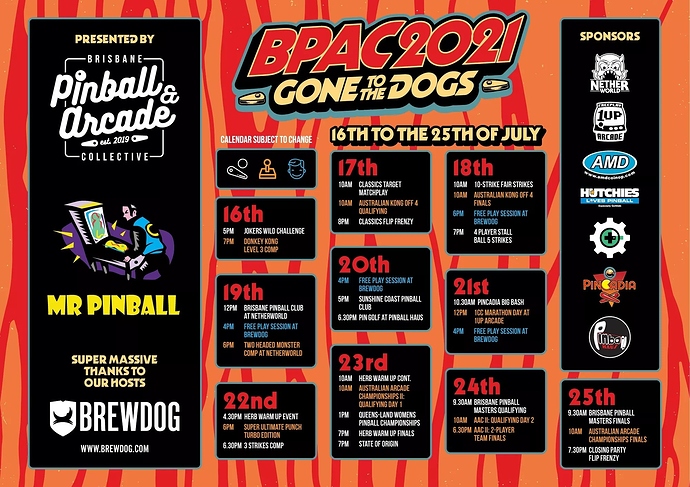 –
Ladies and gentlemen. It's here. The time has come to present the full event schedule for 2021 for your viewing pleasure.
Also a great time to shout out the amazing generosity of
Mr Pinball Australia
the major sponsor for 2021.
Also super massive thanks to
Amusement Machine Distributors

Hutchinson Builders

Netherworld

and our hosts for 2021
Brewdog Australia

Lots of other sponsors and partners we will shout out over the coming weeks as more news, events, poster's and merch drops.
Full format details will be up on the website in the coming days.
Also super massive thanks to
Luke Shield
and
Nelson Gibbins
for the incredible art, graphics and merch we have install.
Ticket's on sale in 8 sleeps.
Woop!!!
Join on FB: https://www.facebook.com/bnepac/ for more info