Saw this and thought to share with all the pinballers who would like a American girl pinball machine
Finally something in my price range.
Should be IFPA legal…3 balls and real scoring…
Can we get a rule sheet wiki started?
Reviews are surprisingly good. I might, actually… buy one of these?
Gameplay video stolen from Pinside user @northvibe. Starts around 2 minutes in. It's larger than I expected. I was thinking the doll was G.I. Joe size.
Nevermind, I must've been on drugs this afternoon.

I'm wondering if there are any IFPA rules that would keep this toy machine from being used in an IFPA-endorsed tournament?
We used it in a tiebreaker last night. I got DQd on it (it was for seeding for 1 vs 2). It has no tilt though I guess someone might be able to hack one for it.
It was a split flipper match where you had to swap sides after each ball and my team forgot to switch. We did have a higher score than the other team but for naught

Yeah, that was a fun tournament. Nice playing you, Gene!
Here's a gameplay video and tutorial someone posted to YouTube…

And here is an image of the rulesheet from a still frame of the video…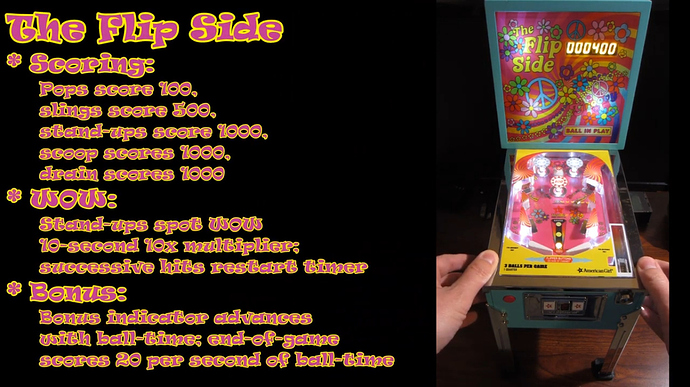 Hilarious that Jonny O got one! I heard there is going to be one at Free Gold Watch soon, too. When's the launch party?
I regret not playing this in the restaurant across the parking lot from Flippers! It makes for a great bar top game and I assume some people got their gameplay on while having a drink or two.
We thought about as a joke adding it to line up with a picture and say new line up . We also talked about putting it on top of Hercules and say David versus Goliath of pinball machines
Does anyone have any information on the who or how behind development on this game? It's becoming quite popular lately what with it being an affordable and fun game people can access during this time. Plus if you were considering getting one, they're currently on sale and I would highly recommend it (not a paid endorsement).
The functionalities of the game itself are deeper than I was expecting for a wee toy pin. Frankly I figured I play it a few times and just pop it on a shelf because it's cute and we have a collection of various minipins, but I've been playing it multiple times daily in attempts to roll it (this is possible and I've finally rolled it but now I want to get to 2 mil so this is far from over) and it's now on Pindigo and part of the Quarantopia selfie tournament.
I've reached out to the folks at American Girl but thought it might be possible someone here knows something about the game development or team behind it.
Any leads? Holler atcha me.
I have no clue who to talk with but if I hear something will reach out
Shit like this is why I love this community.