The 2022 Southwest Regional Pin-Masters date and venue are set. May 14-15 2022.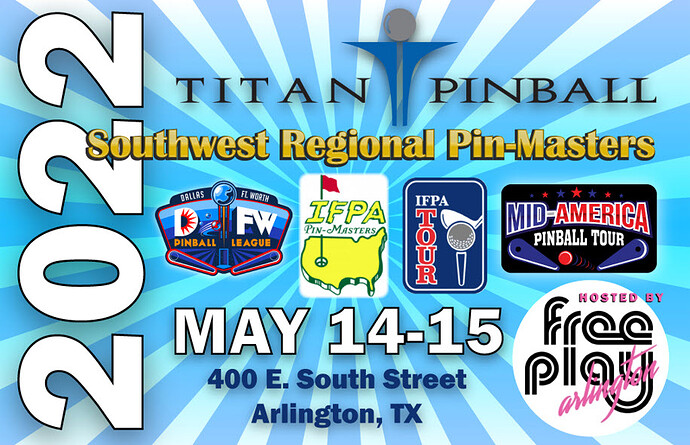 https://freeplayinc.com/tickets/
IFPA CERTIFIED event!
This is a feeder tournament for the National Pin-Masters in 2023. First prize will include HALF OFF entry into the National Pin-Masters 2023, as well as $1000 CASH generously provided by Titan Pinball. Format will be Pin-Golf of course.
$30 entry fee, does not include venue admission.
Venue admission is $11.09 plus tax (currently comes to $12) each day. Monthly memberships also available (preexisting monthly members will be covered for admission but still have to pay entry fee to be considered for finals/prizes.
All games as per the name of the venue are set to FREE PLAY.
Food and drink will be available for purchase from the bar.
Qualifying Saturday, finals Sunday.
You can play on Saturday without entry fee as a "novice" but will not be eligible for finals or prizes.
https://freeplayinc.com/tickets/
(2/12 edited prize money amount)
(2/15 registration live)
Anyone with questions can contact Louis Marx at marx.pinball@gmail.com
Additional prize money will be available for both A & B Divisions.
Venue will be Free Play Arcade Arlington location (400 E South St Arlington TX 76010).