The Northwest Pinball and Arcade Show (NWPAS) provides competitive pinball players in the Pacific Northwest a high-quality pinball tournament experience, that begins with the satellite series, and ends with several major events at the show, including the prestigious NW Women's Pinball Championship, a uniquely designed Open Match Play Tournament, and the nation's best attended PinGolf event.
This page provides a summary of the NWPAS tournament schedule and summary of each tournament at the show, Friday June 3 through Sunday June 5, 2022.
For information on the satellite tournaments held across the PNW, from Portland to Marysville and everywhere in between, Click Here
Here are the announced tournament machines: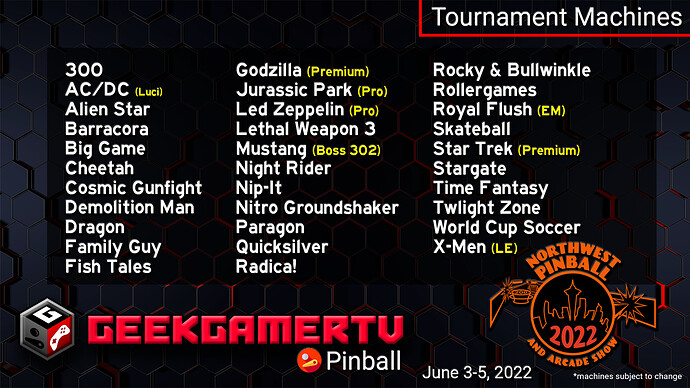 Stream information for the Northwest Pinball & Arcade Show:
First for the Tournaments! All tournament streams will be found on Twitch here: http://twitch.tv/geekgamertv
Coverage will kick off on Friday, June 3rd at 2pm and continue throughout the weekend with various announcers and events to include: Women NW Championship Qualifying, Open Match Play and Pingolf!
Next for the Seminars! The seminars will get their dedicated home LIVE on the GeekGamerTV YouTube Page! http://youtube.com/geekgamertv
For Friday's Seminars (starting Friday at 3:15pm):
https://youtu.be/0pvN_7T6qQI
For Saturday's Seminars (starting Saturday at 12:15pm):
https://youtu.be/_Dw-vmaBBe4
If you happen to miss any of the events, they will be archived on the GeekGamerTV Twitch and YouTube pages.
All times are subject to change due to technical issues/unforeseen problems/etc. For up-to-date information, please be sure to follow GeekGamerTV on Twitter @ http://twitter.com/GeekGamerTV
If you have any questions/comments/feedback, please feel free to leave them here! Looking forward to a great weekend of Pinball in the PNW!