It's like a league without the commitment!
Learn more at www.brewcades.com/rad-replay-series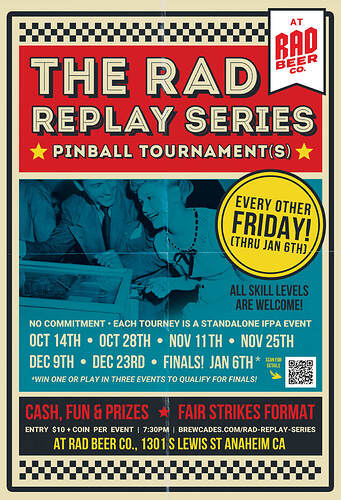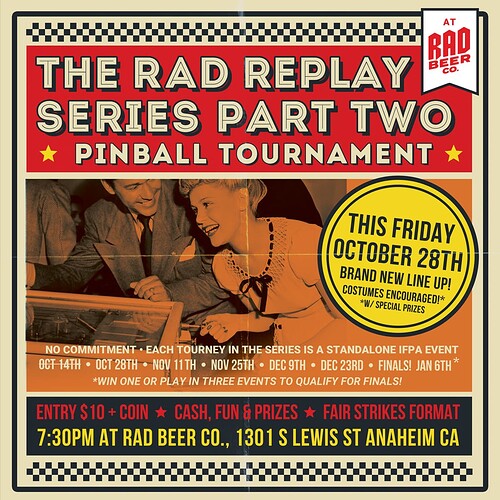 THIS FRIDAY 10/28 at 7:30pm! The Rad Replay Tournament Series Continues…
We will have a brand NEW LINEUP of machines at Rad Beer Company in Anaheim (since the last event) and there will be amazing Asian-American Barbeque provided by Smoke Queen BBQ (as seen on The Food Network).
Plus if you wear a costume you will be competing for a special side-prize only available to those who dress up for the occasion!
The Rad Replay series is a tournament series where each event is a standalone IFPA event - so if you missed the kickoff party THAT'S OK - just show up and you are in! The last event was a huge success, with over 40 players- so let's keep it going!
FRIDAY 11/11 at 7:30pm! The Rad Replay Tournament Series Continues…
The Rad Replay series is a tournament series where each event is a standalone IFPA event - so if you missed the first events THAT'S OK - just show up and you are in! Food truck TBA soon + great beer and fun prizes and cash for the top 2 players. www.brewcades.com/rad-replay-series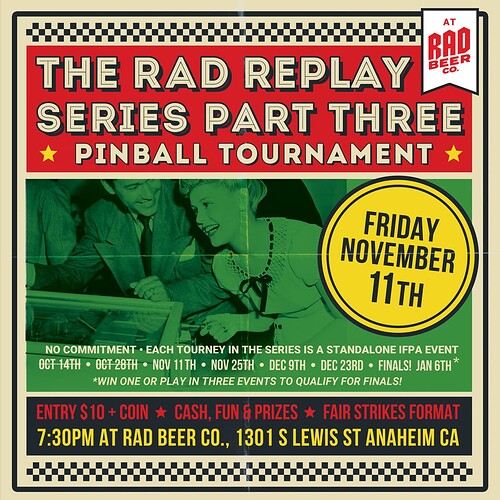 FRIDAY 11/25 at 7:30pm! The Rad Replay Tournament Series Continues…
The Rad Replay series is a tournament series where each event is a standalone IFPA event - so if you missed the first events THAT'S OK - just show up and you are in! Food truck TBA soon + great beer and fun prizes and cash for the top 2 players. www.brewcades.com/rad-replay-series