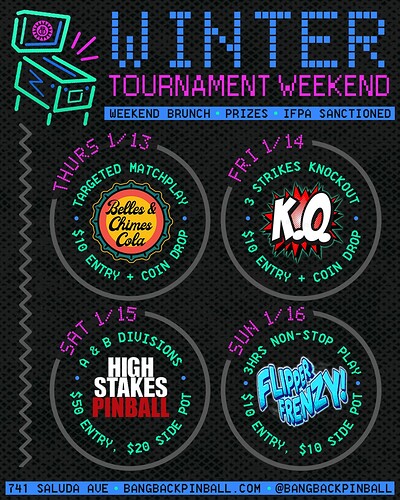 Hey everyone, I wanted to let you know we will be hosting a weekend of events at Bang Back in January. Trying to be respectful of the calendar, this is a week after Magfest and 3 weeks before INDISC.
We are hosting 4 events over 4 days. The general breakdown looks like this:
Thursday, January 13th 7:00 PM :: Belles and Chimes Event - Targeted Match Play - $10 entry, $10 side pot, coin drop.
Friday, January 14th 7:00 PM :: 3 Strikes Knockout - $10 entry, $10 side pot, coin drop
Saturday, January 15th 1:00 PM :: High Stakes Event - $50 Entry, $20 side pot, games on Free Play. Match Play Qualifying, PAPA Style 3 Game Finals. A & B Divisions. Guaranteed $500 First Place, up to $1,000 1st Place with a full field (capped at 64).
Sunday, January 16th 1:00 PM :: Flipper Frenzy - 3 Hours of non-stop play. $10 Entry, $10 side pot. Finals head to head, double elimination
IFPA sanctioned * Big Wins * Multiple Divisions * Great Trophies * Side Pots * Lots of Random Giveaways * Weekend Brunch
I've had a lot of players hit me up wanting to visit, and they always say, "Tell me when your next big event is…" so here ya go. Since we're a newer scene here in Columbia, most of our scheduled events are recreational. Therefore going forward in 2022, I think we're going to host a full weekend once a quarter for competitive play, and focus our efforts on making those fun and rewarding.
I've tried to make this financially attractive to those who want to travel, without scaring the entire local community away

That's why we'll have side pots added to all events. The main event, High Stakes on Saturday is a guaranteed 1st Place prize of $500, with the top 8 getting a payout. After/If we go over 32 players the prize pot increases, and we will add a B Division, with the top 4 getting payouts there. I plan to have super cool trophies, as those who know my events have come to expect.
I'll try to remember to check back here to answer any questions. Otherwise, keep an eye on our Facebook as I plan to create an event page for this today. There will be more detail added there. I also plan on listing the High Stakes event on Eventbrite, since we'll be capping that at 64 players. You'll have to signup in advance for that one.
I'm glad the world is beginning to open back up. I hope to see some familiar faces make the trip. Otherwise, I'll see y'all at INDISC. Take care, FR