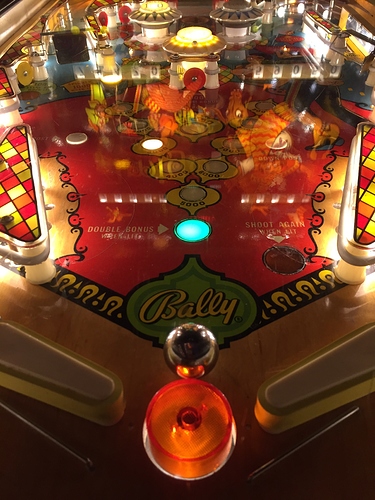 Personally, I feel completely confident about my ruling in this situation. I'm just posting this in response to the chorus of mumbles 'n grumbles and immediate texts to PAPA Doug that followed.
I am aware of the "ball stuck on center post" discussions, and I do agree that a ball stuck on a center post should not be considered a stuck ball.
In this case, the game is Bally Amigo. It has the "Play-More" post, more commonly referred to as an "up-post". The touch-target in the middle of the playfield raises it, and the rollover buttons near the tops of the slings drop it.
Player hits center target, up-post raises, ball drops directly onto up-post, and stops right where you see it in this picture.
My ruling is "stuck ball", and place ball in shooter lane. Arguments could be made for placing on either flipper, but shooter lane is just the standard at this location.
Since the ball was stuck on a post above the flippers, and since the ball rolling off either side of the post would safely land on a flipper, I see no reason why this should be treated the same as a ball stuck on a "center post", like on PIN-BOT, T2, etc…
p.s. Amigo is cool