Are the tournament banks published anywhere?
Sorry for the delay. It's been hectic at Pinfest. Should be available in about an hour.
If you're running behind, don't worry about it. It's a "nice to have", but if you're working this late, it sounds like you have your hands full.
Let it be – we'll find out tomorrow anyway. Get some sleep guys, long weekend ahead!

Folks, we are really excited for tomorrow's event.
Here's what we believe will be in the Main Event on Friday and Saturday, subject to any last-minute changes. Full disclosure: One or two of these games might be pulled in the morning depending on some issues we're seeing, so please bear with us if we have to make some last-minute changes.
Count-Down
Dragon
Eight Ball
Elvira and the Party Monsters
Fireball II
Fish Tales
Flintstones
Future Spa
Harlem Globetrotters
Iron Maiden
Mars God of War
Monster Bash
Nitro Groundshaker
Pinball Pool
Theatre of Magic
Tommy
Transformers LE
Wild Fyre
Link to all Standings sites: http://bit.ly/pinfest2018
Rage Tilt Pinball will be covering the event, and will go live at some point in the afternoon for Qualifying coverage: https://www.twitch.tv/ragetiltpinball
I just wanted to give a big thank you to those who came out today to volunteer to get things set up for the event this weekend. Without them, things wouldn't have come together the way they did today.
I'm going to go radio silent on the forums over the weekend, so if you have any questions please come see me at the show! Looking forward to what I hope will be a great event.
Best,
Corey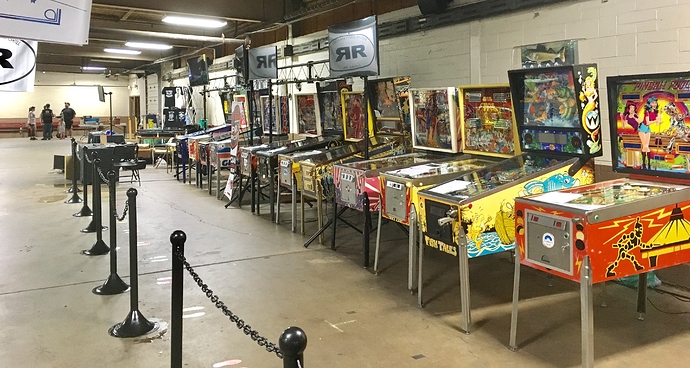 Wow, looks like a fantastic lineup – interesting titles from a range of different eras. Looking forward to it.
Hello Everyone,
We are making a general announcement about a switch in Finals format for B,C,D, and E Divisions.
A-Division will remain as-advertised.
For B, C, D, and E, we will now be doing a two-game PAPA-Style Final (4/2/1/0 scoring) on tournament machine games as opposed to a single-game double-elimination format using games on the floor. We saw challenges yesterday in the speed at which the Match Play single-game double-elimination Finals concluded and we want to ensure a quality and consistent game experience for our finalists, so we are moving all finalists to Tournament games.
As a reminder:
All in the Top 48 will be receiving cash and prizes.
There are NO division restrictions for B, C, D, and E division.
1-16 Make A
17-24 Make B
25-32 Make C
33-40 Make D
41-48 Make E
As also previously announced, because of IFPA rules, if we exceed 160 participants, A Finals will be expanded to more people and will pull a certain number of people from B-Division dependent on the number of overall participants. For a full breakdown, please refer to the rules document:

For any questions, please see the tournament desk as I will not be checking the forums or email during the event today.
Best,
Corey
Thanks for the update @coreyhulse! Will there be signage at that event as well for those not in the forum loop?
We've got a rotating board with a PowerPoint. We need help spreading the word, though, so please share!
We also now have various signs printed around the tournament area. Spread the word!
Corey,
You and your team are doing a fantastic job! Games are holding up pretty good!
Thanks for putting on a couple of great tournaments! I think you handled the hiccoughs well and everyone I talked to seems to have had a good time. I certainly enjoyed myself…despite where I finished.

Thanks again!
For starters I would like to thank and congratulate Corey, Jay and the rest of their crew on running a great tournament. Well done guys. This was my first big tournament and I had a great time and definitely learned from the experience.
Unfortunately technical difficulties are going to happen, and I would like to discuss what happened in the first round of playoffs.
Recap of the situation.
Playing Globetrotters with Adam, Bowen and Steve. I'm player 4.
After my 2nd ball it's brought to my attention that the first digit of my display isn't working. I was told Bowen had reported it after my first ball.
We got the officials involved before my last ball and I was told to play on. It was thought there might be video to resolve the issue but I don't think that ended up being the case. I was promptly house balled and then we had to figure things out.
There was some disagreement between the others in my group and some spectators of what my score actually was.
After talking to everyone I was ruled to be in third place. I think that is where I actually finished but the reality is my actual score was unknown.
Was the situation handled correctly by the TD?
And what options do I have as a player if I disagreed?
Again, I think things played out correctly, would just like to be better prepared for these types of things in the future.
Who did Bowen report it to after ball 1? As soon as it was reported, assuming it was to a tournament official, it should have been dealt with.
Hey Bob, I'll give you my perspective on things as the TD who made the call, and we can let others chime in if there are better ways to approach it in the future.
First off, let's address what should have happened before we got into this situation. All numeric displays should have been run through a digits test as part of the set-up of the event. That didn't happen, and we didn't observe a problem until Finals which was unfortunate.
Second, we should have had a staff member observing scores the whole time, and because I was setting up the other divisions and didn't delegate properly, we didn't and I relied on eye-witness accounts to make the call. Another lesson we'll take forward.
It was brought to my attention that after ball one you had achieved a sufficient number of points that should have rolled you over at least once, but there was no indicator on the hundred-thousands digit. After that, I had a team member watch the rest of your game, and you were observed to have rolled over once during Ball 2 and not on Ball 3.
The scores fell at follows:
Steve: 233,050
Bowen: 78,080
Adam: 305,260
Yourself: X31,790
Where there is a high degree of confidence that the number was either 1 or 2. Either situation would have put you in 3rd Place. The only unknown is whether you rolled TWICE on Ball 1, which in the judgement made I had made a probabilistic call that you did not based on the amount of bonus earned on your Ball 3 house ball.
We attempted to see if video could show us, but unfortunately the video was focused on the score of the 1st and 2nd players. Given more time, we could have replayed your Ball 1 feed and approximated your score.
We also made a brief attempt attempted to re-seat the connectors without electro-shocking our techs. We were unable to fix it, so we killed power at the conclusion of the game, swapped displays with another game, and it worked correctly for the remaining players.
Now, reflecting on it after the fact, I think the correct call should have been to pause at that point and make a solid declaration after ball 1 that we believe your score to have rolled once but because we are unsure, offer two options:
Play on as if your score was at 100,000+ after Ball 1, and add on any subsequent rollovers based on observation.
Give you a choice to stop your current game and play a fresh game on a working display.
As a tournament director, I'll be looking to better prepare our games and volunteers for situations like this in the future, and I offer my apologies Bob if it put a damper on your experiences at all.
I wanted to give a big thank you to all the people who came out to PinFest this year to support the event. It was by far the biggest tournament we've ever hosted.
Most importantly, the winners:
Main Event:
A-Division
Jason Zahler
Adam Mckinnie
Levi Nayman
Steve Bowden
Bowen Kerins
Eric Wagensonner
Elliott Keith
Alberto Santana
B-Division
Jay Robinson
Basci Dinc
C-Division
Eric Moberg
Jason Mawson
D-Division
Scott Wilson
Clark Fraley
E-Division
Francesco La Rocca
John Moran
Match Play:
A-Division
Rob Wintler-Cox
Tony Makowski
B-Division
Dave Peller
Jason Plourde
C-Division
David Reil
Nitzan Gabai
We have all the Finals match-ups on paper, so please give us a few days to get all the results translated into MatchPlay and submitted to the IFPA.
We had 166 participants in Main, and 102 Participants in our Friday Match Play event, which is by far the biggest turnout we've had for PinFest.
I have to make sure we say thank you, thank you, and thank you to all the event and machine volunteers for all your hard work during this year's event. Volunteers came early, stayed late, and this event would not have happened without each and every one of them putting in hard work and hours to make the event a success.
Thank you to our hard-working techs who kept machines up and running for the duration of the event. When there was a problem, they solved it. We had all 18 machines available to us for Finals, which is an amazing feat. B, C, D, and E Finals all ran smoothly and were all wrapped up around 4pm. A-Finals of course ran right up until closing time because we had some of the greatest pinball players in the world putting up crazy scores on our machines, but we closed out before 8pm.
This year we had more games, shorter queues, more uptime, funky trophies, and more payouts given to participants than we've ever been able to do before. I also met a lot of new faces this year who came out and helped us to execute the event and we hope to see you back next year! I have only been involved in the pinball for about four years now and am constantly amazed by the awesome people that I meet in the tournament scene.
There are of course improvements that can be made moving into next year. Jay and I have already been exchanging multiple notes and thoughts on things that worked and things that we know need to be better in order to deliver a great pinball experience for those who are dedicating time and money to come to our events.
We know that the Match Play event did not run smoothly. This is a personal disappointment because we ran a similar event at the York show and by all accounts that was a great event. It did not translate here to PinFest and we'll think about either cutting it completely or modifying the format to be a better experience next time. Because we saw that the double-elimination format didn't work well for Match Play, we pivoted to PAPA-Style Finals in Main and by all accounts the Main Finals were much smoother as a result.
We know that timing and the transition to finals didn't get started as quickly as it should of. We also know that there were game settings that should have been addressed (i.e. extra balls left on on a few games, displays with missing digits). We know that there was lack of clarity on bank, game, and order selection. All of these things combined made finals longer than they could have otherwise been, and we'll look to address it next year.
We know we had glare on games, which is very hard to address given the location. We've also never had seating available at the event, and I know I had a few conversations where it was brought up. We'll see what, if anything, can be done to address these things.
Overall, I hope that people had a positive experience in this year's event. If you're interested to share your thoughts, please feel free to drop a note to pinfesttournament@gmail.com or reach out to me directly. I appreciated my many conversations with experienced players (people like Bowen, Eric W, and Sunshine to name a few) who shared views and advice that I know I'll be taking into account as I plan future pinball events.
I also have to make sure to thank Josh and Karl for taking phone calls from me during the event. It's great to know that I can get a hold of people quickly!
We have to ensure we thank the following sponsors for their contributions to the event:
Railroad Bar and Grill - Cash for Prize Pool
Pinball Gallery - Cash for Prize Pool
Pincades - Cash for Prize Pool
Game Exchange - Cash for Prize Pool
Lermods - Cash for Prize Pool
Rock Fantasy - Gift Cards to Division Winners
Modern Pinball - Gift Cards to Main and Kids Winners
Titan Pinball - Pinmats
Pinball Star - Gift Cards for A-Division finalists
PinCrossing - Machines for the Event
Rage Tilt - Streaming Coverage of the Event
Back Alley Creations - Gift Card for Event Winner
Stern - Translites for Winners
Jersey Jack Pinball - Translites for Winners
Thank you one last time for everyone's help with the event. Looking forward to Pinburgh in just a few short months!
In my opinion there is only one ruling to make here, and that is that the player with the broken digit starts over and replays their game. Without a TD in place observing the game closely, then anything that anyone brings to the table is hearsay. Their statements about what happened are irrelevant. Their opinions about what should happen are irrelevant. There is just one fact here: The game was scoring incorrectly, there is no way to know what your score is. Catastrophic malfunction. Player 4 starts over and all other scores stand.
If there is one rule I would stamp into every TD's brain it is this: If you are offering a player/players a choice, then you are making a mistake. There is not one place in the IFPAPA rules where a player is offered a choice between two rulings. I understand why this is appealing, especially when we get into situations that are at least in part our own fault as TDs. We want to make things right, we don't want the player to feel bad, etc. However, it actually removes fairness from the proceeding as a while, because it means we will rule some way over here and some other way over there, based on player decisions.
Make rulings and learn from them for next time. That's all we can do.