So one of the things floating in my mind is… where is the growth in pinburgh players coming from?
We have demand for over 1500 players this year. Is the same base being more motivated? Is it the player base itself growing and pinburgh matching that? Who is the player type pinburgh is attracting verse maybe other events? We all know pinburgh is a pretty big commitment, and the flood keeps coming… so who are these people compared to maybe other areas of growth in pinball.
So my dataset is the recently published pinburgh player list… slightly massaged to fill in ifpa numbers where I could… this left 23 entries with no ifpa ID. Close enough to make some generalizations… even if the data is up to 4-5% off. Next, I'm relying on the data in the ifpa player info… so keep that in mind.
So… I think an interesting way to look at that would be to say, how many repeat players are there Y2Y? That was a harder number to crunch than I was willing to do on a Sunday night… but anecdotally I would expect that number to be very high… and a good portion of the player base.
One thing we see in our region is the SURGE in new players… its really taken off in the last say… 4-5 years? Especially the under 35 crowd. So one thing to do is look at the age demographic… Here is the age histogram. Unfortunately a very high # of ifpa profiles had no age (369 out of the 979 entries) and 7 more had crap… so this data is incomplete at best.
But here it is…!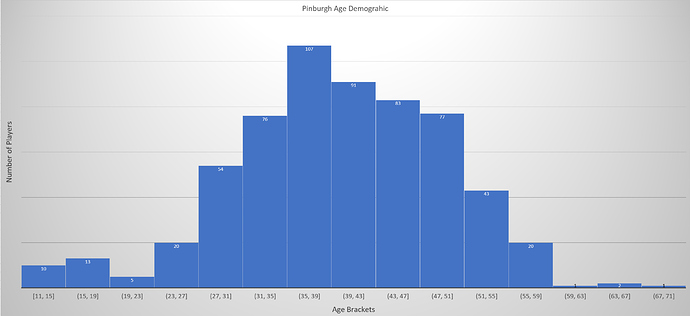 The other question I had was… are these experienced people, or less so? So I queried how many ifpa events each player had, and plotted that too…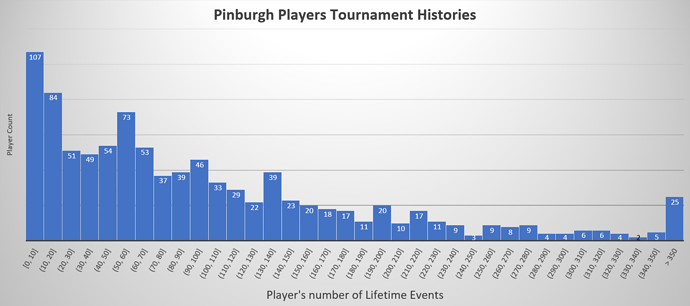 Interesting I think… how about you?