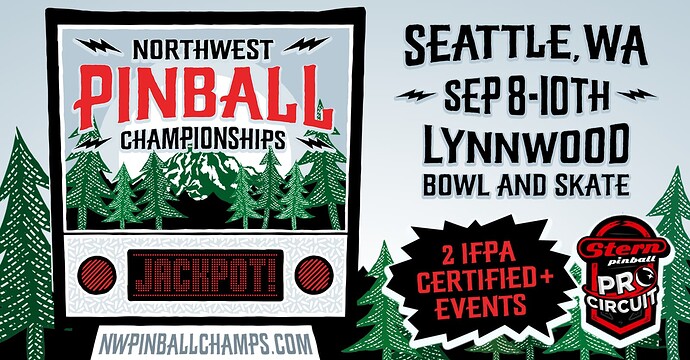 Last year return of our event following the long COVID break was a smashing success! We had more players than ever had in our 15 years of events and an amazing support from our sponsors.
This year we are running TWO MASSIVE IFPA CERTIFIED+ events (potential 300% total value), part of 5 total IFPA events across the weekend.
We also continue to be part of the Stern Pro Circuit
https://sternpinball.com/stern-pro-circuit/
2023 updated changes:
New schedule for events, please refer to the website scheduling page for latest details.
MORE FINALIST for the OPEN event with TOP 40 making the finals.
MORE FINALIST for the CLASSIC event with TOP 24 making the finals.
HIGH STAKE event is now limited to 80 players to TOP 8 making finals.
Details:
NW Pinball Championships 2023
September 8th to 10th (Qualifying Fri noon-midnight / Sat 10am-midnight, Finals Saturday for Women's and Classic, Sunday for Open and High stake tournaments)
Registration (limited to 140 players max) will open on 6/8 at Noon PST on the website.
100% of the tournament tickets/cards money is paid back to the players as prizes, topped with generous contributions from our sponsors. Over $28,000 was paid out in prize last year (including trophies)!
We are continuing to receive great feedback about our new venue of the past 3 events and we are happy to announce we will be returning to the Lynnwood Bowl & Skate for 2023!
More at http://www.nwpinballchamps.com/
We take great pride in having an extremely dialed and enjoyable lineup and overall providing a world-class tournament experience.
The OPEN division qualifying will continue with the "card of 5 games" format this year, however top TOP 2 cards will now count toward your ranking. The bank will be expanded to 10 games this year.
The CLASSIC tournament qualifier will be "Best game/Herb" format, with all 6 games scores counting, TOP 2 scores on each machine.
The WOMEN's tournament qualifier will use the same format as the OPEN division, with a "card of 4 games" out of a bank of 5, TOP 2 cards will count.
The HIGH STAKE division will use the same format as the OPEN division, with a "card of 5 games" out of a bank of 5, TOP 2 cards count.
The SUNDAY REVENGE tournament will be a 4 player group Knockout tournament on the Classic bank.
We will be streaming the finals on Saturday and Sunday all day. We will also stream the qualifying on Friday and Saturday (depending on availability). All this thanks for our partnership with GeekGamer.TV
The Northwest Pinball Championships is open to players of all skill levels and ages. It is a multi-day qualifying tournament followed by a day of finals. During qualifying on Friday and Saturday players purchase cards for OPEN/HIGH STAKE (5 games per card), WOMEN (4 games per card) or individual tickets for CLASSICS to play on the tournament machines. Players may purchase as many cards or tickets as they like but there will be lots of opportunities for free tickets (Volunteering, pre-tournaments…).
To help us cover our location rental cost a $30 registration fee which will includes 5 free tickets for the Classics division.
OPEN/AMATEUR division cards (5 games per card) will be 1 for $20.
CLASSICS/AMATEUR division individual tickets (1 game per ticket) will be 1 ticket = $5, 5 tickets = $20, 10 tickets = $35
WOMEN'S division cards (4 games per card) will be 1 for $15.
HIGH STAKE division cards (5 games per card) will be 1 for $40.
The SUNDAY CONSOLATION event will be a Group 3 strike classic revenge tournament, limited to 40 players. $10 sign up, anyone is welcome (registered for NWPC main event or not), registration open at 10:30AM (first come first served), trophy for winner, pay out to top 4.
Combo #1 - 1 Open Cards, 5 Classics entries, and 1 High Stakes Card for $70.
Combo #2 - 2 Open Cards, 15 Classics entries, and 2 High Stakes Card for $150.
Each player's best score on each machine is tracked in a computer and those scores are ranked against all the other competitor's scores on that machine. Players then receive an aggregate of their machine rankings (on a card or through all their best individual tickets) to determine their overall qualifying position in their division.
Anyone making it to a final on Sunday will get cash prizes! All top 4 finalist will get trophy/plaques to take home!
There will also be several activities including charity drive, swag raffles and more…!
We will have more announcement in the future as well as the banks line up!