Recently picked up a Mousin' Around and was determined to find an easy way to make it viable for Tournament Directors to use it in their tourneys. Game has a great layout and a fairly challenging multi-ball, but that center ramp shot is just stupidly valuable. For those who don't know, the shot is blocked by a 3-bank (a la Attack From Mars) and once lowered the ramp will award the following; it will light the other ramps for MILLION letters, it will re-light the kickback, and it will score 100,000 pts. This shot is easily repeatable, so most skilled tournament players would lower that bank and ramp out for millions and extremely boring play.
So here's what I came up with: I removed the wires from the ramp switch and relocated them to a new switch that I installed under the playfield.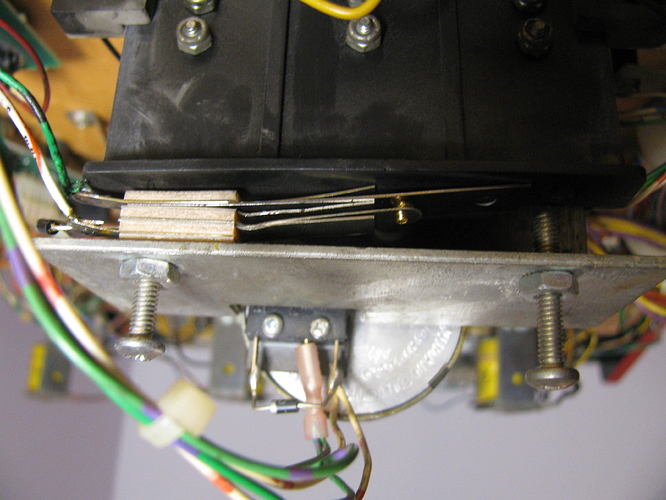 This new switch is activated by the 3-bank being lowered. So now, dropping the wall will award 100,000 pts and light the ramps for MILLION letters. Okay great, so now what to do with that center ramp switch? We still want to give players a reason to shoot it, so I wired it up in parallel to the left inlane switch (White/Blue, Green/Black).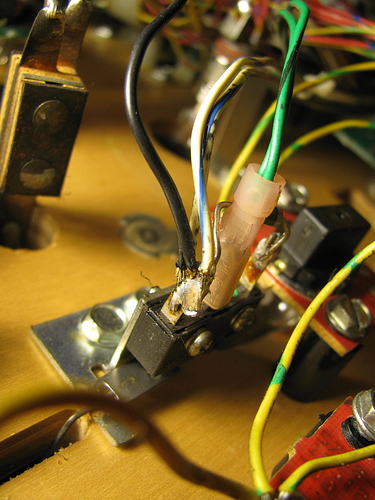 This switch will award MOUSE TRAP letters when the lane is lit. Spelling MOUSE TRAP will allow you to lock balls for multi-ball. Prior to the mod, the only ways to collect letters was from hitting the corresponding stand-ups or by rolling through a lit inlane (ramps both feed after the switch, however the left orbit will feed to the right inlane). At the beginning of game both inlanes will be lit, but after that the lit inlane will alternate and the game will no longer allow you to collect them by shooting the left orbit either. So with the new mod, players are given another strategic option for collecting MOUSE TRAP letters, in fact, after the first multi-ball, players can now combo their way to lighting locks by shooting center ramp/left orbit combos. Pretty cool!
One consideration is that factory setting for the kickback is to start the game with it lit, once used re-lighting came from shooting the center ramp 3 times in a row. Now that the switch has been moved, relighting will only come from lowering the center bank 3 times. On our game we have chosen to set the kickback to easy, this ensures that each ball will start with it lit.