Friends, serious question. I've been a TD for more than 20 years, this is maybe the most difficult decision to host an event in that time. I consider many of you friends, and feel a kinship/respect with many of the rest of you that I know by name only. So I welcome your feedback.
I'm also a business owner. We opened 2 months ago and are doing ok. Always looking to grow. Tournaments, Leagues, Pinball Programs were always part of the plan. I have a few hundred people come through our location each week. We do our very best to keep those guest, and our staff safe. We've had a lot of people ask when we will have a pinball event, so here's the first.
So with that invitation on the table, feel free to respond here, email BangBackPinballLounge@gmail.com, or text/call me if you want. I know there's been some events going on, but this feels like uncharted ground, to me anyway. Details below. Thank you, stay safe. FR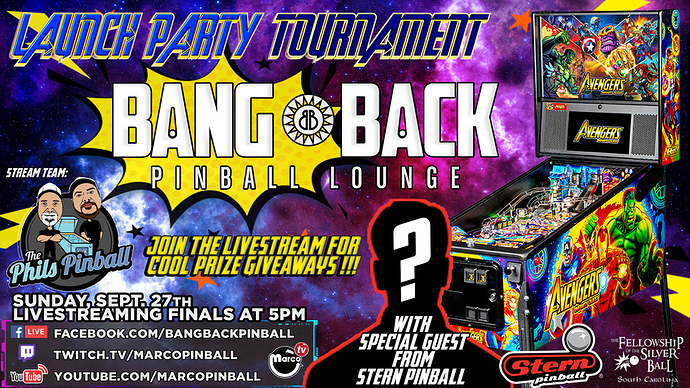 AVENGERS INFINITY QUEST LAUNCH PARTY
We're excited to announce a Launch Party for Stern Pinball's newest machine, AVENGERS!
With that being said, let's address the most important aspect of this event, your safety. As a venue, Bang Back Pinball Lounge goes to great lengths to do everything we can to protect our guests and our staff. Please review the following:
MASKS ARE REQUIRED at BBPL
Please respect social distancing and keep 6 feet apart from other players and guests
Make yourself familiar with the Safety Station at BBPL. You will find peroxides, sanitizers, single use towels, gloves, masks, Lysol spray, and glass cleaner.
As much as the staff cleans and disinfects our machines, ultimately it is up to your discretion to clean the machines to your liking.
You may remove your mask when seated for eating or drinking.
Our format will consist of only SINGLE PLAYER GAMES.
Bang Back is a large location with many areas to spread out and find seating. Please see a staff member if you would like help in locating an area for you.
Thank you for reviewing our safety measures and contact us if you have any questions at BangBackPinballLounge@gmail.com
LOCATION
Bang Back Pinball Lounge
741 Saluda Ave
Columbia, SC 29205
(803) 864-4426
EVENT
Sunday, September 27th
Open 11:00 a.m.
Check in / Register 11:00 a.m. - 11:30 a.m.
Brackets drawn 11:30 a.m.
Announcements 11:45 a.m.
Tournament begins NOON
(pre-registration will open on Saturday, Sept. 12th at noon EST. Details to follow)
FORMAT
All games will be chosen at random throughout the tournament.
QUALIFYING
Four 4 Player Games will be played in a round. You will be assigned to a 4 game "pinwheel" where 4 players will play a single player game on each machine. Your scores will be matched against the other players for rank. You will be awarded the following points based on your finish on each game:
1st - 4 points
2nd - 2 points
3rd - 1 point
4th - 0 points
2 rounds will be played. 8 Finalists will be chosen from the field based on points earned from those rounds. Playoffs may be needed in the case of ties. Single game tie-breaker.
Final eight players will play 2 games head to head in the SEMI-FINALS. Tie breaker is the largest margin of win %. The four winners of these matches will advance to a single game finals.
Finals will be your finishing score on Avengers. Good luck and have fun! FR