After some heated debate tonight about exactly how high the flippers should come up when flipped in Tron - I'm left wondering if I'm being sold the wrong coil stops.
The last three or four Trons I've played have flippers that will generally let you hold the right flipper up and catch a ball coming out of the scoop.
I started watching competitive videos tonight to compare flipper angles. The first screenshot is from 2014 Nationals:
The second is from Louisville 2014: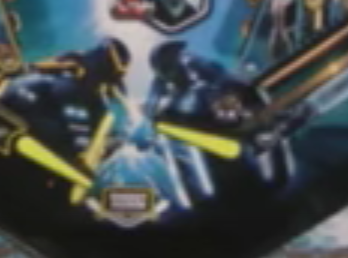 It's a little difficult to see, but notice in the second pic, there is a significant amount of white artwork (which is negative space between the arm and body of the guy on the light cycle) visible above the tip of the right flipper. In the first pic, there is virtually none.
The last 3 or 4 Trons I've played have all been like the former. However, in looking at competitive videos, nearly all of them are like the latter.
My Tron, and the one in question from tonight, had the flippers rebuilt very recently using Stern flipper rebuild kits from Marco. Both have flipper travel similar to the top pic.
What's going on exactly?